Vergangne Woche fand der zweite Stopp der Championship Tour der World Surf League statt. Die Australierin Molly Picklum und der Brasilianer Filipe Toledo gingen im Bewerb beim Sunset Strand auf Hawaii siegreich hervor.
Für die 20-jährige Australierin Molly Picklum war es der erste Championship Tour Sieg und somit auch das beste Ergebnis ihrer noch jungen Karriere. Picklum surft erst das zweite Jahr in der elite Championship Tour und kann jetzt schon eine Führung in der Weltrangliste verbuchen. Durch ihren Sieg beim zweiten Stopp der Tour zieht sie nämlich mit der fünffachen Weltmeisterin Carissa Moore aus Hawaii gleich. "It is just a jersey color, but I'm stocked to be on the top because that's where I want to be, it's where I feel I believe I can be", freut sie sich über die Führung und den Erhalt des gelben Trikots.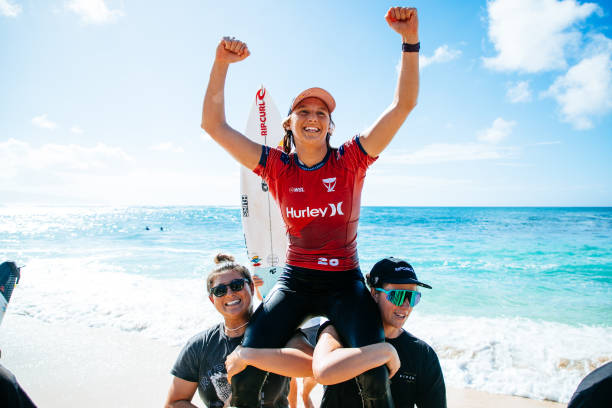 Auch die Zweitplatzierte der Championship Tour Caroline Marks war mit 21 Jahren eine sehr junge Surferin. Die US-Amerikanerin steigt durch die Topplatzierung von Rang neun auf Rang fünf in der Weltrangliste auf, womit sie wieder im Rennen um den Weltmeistertitel und die Qualifikation für die Olympische Spiele ist. "It has been such a fun week, and I've had such an amazing support crew and want to thank everyone", bedankt sich Marks bei ihrem Team.
Bei den Männern durfte der amtierende Weltmeister Filipe Toledo ganz oben am Stockerl stehen. Insgesamt hat der Brasilianer damit 13 Championship Tour Siege und befindet sich nun auf dem zweiten Platz in der Weltrangliste hinter dem Australier Jack Robinson, der den ersten Stopp der Tour für sich entscheiden konnte. "I'm grateful to be here and in this position I am", zeigt sich der Surfer dankbar. Zweitplatzierter wurde der US-Amerikaner Griffin Colapinto.
Das nächste Event der Championship Tour findet von 8. – 16. März in Portugar statt.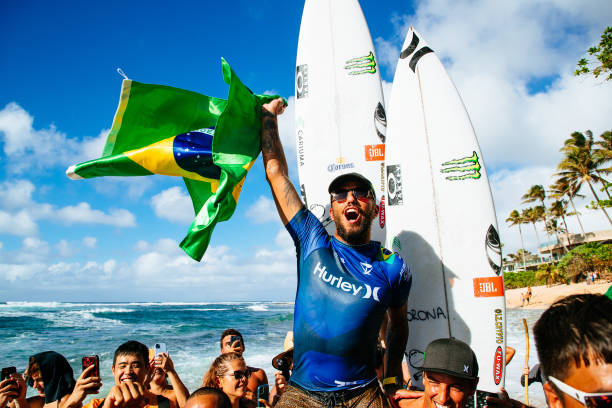 Alle Resultate des zweiten Stopps der WSL Championship Tour:
Hurley Pro Sunset Beach Finale Frauen:
1 – Molly Picklum (AUS) 10.90
2 – Caroline Marks (USA) 9.90
Hurley Pro Sunset Beach Finale Männer:
1 – Filipe Toledo (BRA) 17.74
2 – Griffin Colapinto (USA) 16.10
Hurley Pro Sunset Beach Halbfinale Frauen:
HEAT 1: Molly Picklum (AUS) 12.34 DEF. Tyler Wright (AUS) 1.74
HEAT 2: Caroline Marks (USA) 13.10 DEF. Gabriela Bryan (HAW) 8.83
Hurley Pro Sunset Beach Halbfinale Männer:
HEAT 1: Griffin Colapinto (USA) 17.90 DEF. Jack Robinson (AUS) 16.33
HEAT 2: Filipe Toledo (BRA) 16.33 DEF. Joao Chianca (BRA) 15.54
Hurley Pro Sunset Beach Viertelfinale Frauen:
HEAT 1: Molly Picklum (AUS) 8.67 DEF. Brisa Hennessy (CRC) 8.40
HEAT 2: Tyler Wright (AUS) 12.17 DEF. Stephanie Gilmore (AUS) 11.17
HEAT 3: Gabriela Bryan (HAW) 15.00 DEF. Carissa Moore (HAW) 7.73
HEAT 4: Caroline Marks (USA) 12.50 DEF. Caitlin Simmers (USA) 12.23
Hurley Pro Sunset Beach Viertelfinale Männer:
HEAT 1: Jack Robinson (AUS) 14.76 DEF. Nat Young (USA) 9.33
HEAT 2: Griffin Colapinto (USA) 13.50 DEF. Ethan Ewing (AUS) 9.16
HEAT 3: Filipe Toledo (BRA) 17.07 DEF. Caio Ibelli (BRA) 12.44
HEAT 4: Joao Chianca (BRA) 15.23 DEF. Matthew McGillivray (RSA) 13.00
Titelfoto: Tony Heff/World Surf League